From
Math Essentials
we received a copy of their new algebra book No- Nonsense Algebra. Upon arrival I had one happy upcoming ninth grader who had been ready to do do some math lessons.
At first Michelle truly enjoyed working with this book. The directions were precise and she enjoyed referencing the videos that come along with the textbook. Everything was going well and I was happy that she was understanding concepts that once caused her to avoid math. Each lesson took about twenty minutes just what the creators of this book said it would. At the end of each lesson there is a review. For the first week or so Michelle compared how better this Math textbook was compared to her school's math book. Michelle was proud of mastering the skills that was promised to her and math was not a subject that she used to despise.
The program encourages the child to correct their own work. Then go back and see where you made a mistake if any. Having a child self check their work I am all for. This made me really like this program, especially since I AM NOT CONFIDENT IN TEACHING ALGEBRA. So this was helping us to learn Algebra together, improving both our self esteems at the same time.
Unfortunately this self checking method led us to the end of our road with this program. Michelle and I are just starting our home school journey together. Michelle knows that I am uncomfortable with Algebra. Michelle has been respectful of this and knows that I will do what is needed to compensate for this lack of knowledge in this area. We had our first" I am MAD", "I don't want to be home schooled!" because I told her she was wrong and the book was right. Ouch that hurts!! Michelle was right, and she was right every time we came across the wrong answer in the answer key. In the end this boosted her self esteem and helped me to slow down. The second time we emailed Math Essentials together to bring it to their attention about this typo, We never got a response!! Enough said.
Certainly I agree that if I had handled it differently, maybe the result would not been not liking the program. Still it was enough for us to want to look into a different math curriculum.
While browsing through Math Essentials website I found that they offer a number of different math products for grades 4 and up.
/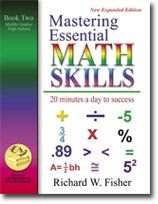 The cost of the No-Nonsense Algebra textbook is $27.95 with free online access to video lessons. They offer a 30 day money back guarantee.
Who I recommend this product to
1. High school students who don't mind typos
2. High school students who want a video lesson to go along with the textbook
3. Parents and High school students who might not need email support.
Go
here
for more information about No Nonsense Algebra.
To read other reviews written by other Crew members about No- Nonsense Algebra go to
http://schoolhousereviewcrew.com/786006/
Disclaimer: As a member of the Schoolhouse Review Crew I was given a copy of the No- Nonsense Algebra book in exchange for a honest reveiw. All opinions expressed are entirely my own!!