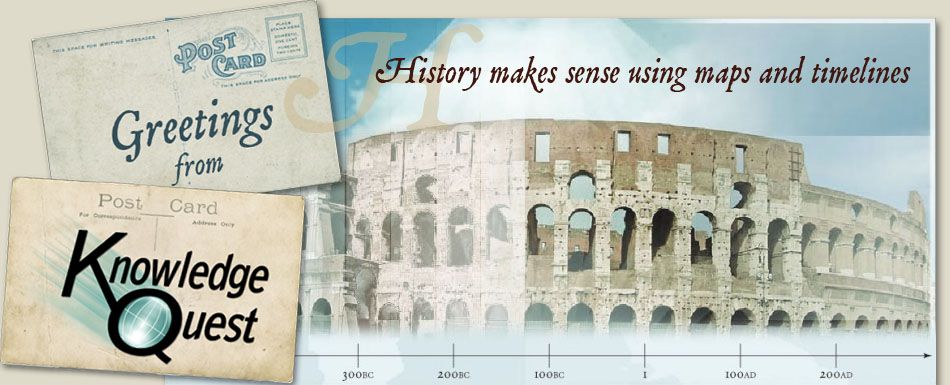 I can't express in words how privileged I feel to have been selected to review The Map Trek Ebook Bundle Version from
Knowledge Quest
which includes hundreds of historical outline maps. NO MORE LATE NIGHTS SEARCHING FOR MAPS!! I was also thrilled beyond excitement to be able to use this product with all of my children. The lessons that are provided are geared toward grades 1-12!! The lessons are straight forward and are labeling activities that can go along with your history lessons, especially if you are going in chronological order. Since I have planned to go over Ancient History in the Fall I thought it would be more appropriate to introduce the kids to the World Maps. They thought this was going to be easy peasey, as in boring "We know the names of the continents already." Until they were shown how they were going to draw the maps (yeah, for positive challenges).
I first introduced them to this lesson while I was cooking dinner. They gravitated to the table after I placed all the necessary supplies on the table. Knowledge Quest suggest having these materials on hand. Also I already had the maps printed out because I asked them if they had to draw a continent which one would they want to draw.
Michelle chose Australia.
DJ chose Antarctica.
Ken chose The World.
Here is an example of the template that the child uses to help draw their map
Since there aren't any lessons that accommodate this group of maps I had them just copy the master maps to the best of their ability. A lot of spatial sense goes into this work. They really enjoyed this activity and all of them have requested this work again, during dinner preparations. What I like most about this resource is that it can involve the whole family and my kids look at this work as a great past time,while they are learning. I can see us changing whose reading the text of our history book each night and following it with some map labeling. This product is flexible like that. All of them have completed their map activities in under one hour.
Here are their completed maps
age 14
Age 8 and greatly focused on this work.
Ken's map which isn't shown was completed but just misplaced.
You can purchase each set of maps for $14.95 (Ebook version with an instant download). For the Map Trek E book bundle it is $47.00. If you want to purchase the CD Rom it is $39.95. Also you could buy a hardbook and CD Rom set for $55.00. As you can see there are plenty of options and many ways to build or add this map collection to your home school that will be available to use for all your children for all your home school years to come.
I recommend this product to
1. All home schooling families
2. All Co-ops that teach history/geography
3. To all Geography/History teachers in the world!! Seriously:)
4. Montessori Guides. Trust me you would have a field day with this resource. Think Command Cards in all levels for your students for different maps. See why I am so excited!!
Go
here
to get your Map Trek Sampler.
.
Knowledge Quest also offers so many things that you can add to your Social Studies, Geography, and History curriculum. You really should check them out
The Road To The White House by Joel F. King.
I know as soon as this game becomes in stock were going to add it to our Presidential Elections studies this fall.
P.S
I plan to show you how we are going to use Map Trek in our home school. The " How We Learn History/Geography" post is coming soon, so check back often.
To read other crew members reviews about Map Treks go here
http://schoolhousereviewcrew.com/785898/
As a member of the Schoolhouse Review Crew I received the Ebook Bundle of Map Trek in exchange for a honest review. All opinions expressed are my own!!