I was sent a copy of the book
Mr.Pipes and the British Hymns Makers
written by Douglas Bond to review from the publisher
Christian Liberty Press
. The book is intended for grades 7-10th. The book is about two teenagers in England who discover that they can worship God through Hymns. The teenagers through an elderly man named Mr. Pipes learn all about British Hymns and about the people who wrote them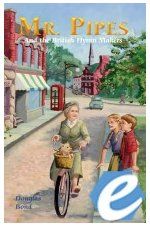 Michelle(14) was given this book to read and quite often she would come and share her thoughts about the book. In the beginning of her readings her response was pleasant. The author was able to pull her in when Annie (the teenage girl in the story) was almost hit by a car. This was interesting to her because it was an excellent way to tie in the setting of the story, which is in England, and Annie forgot that people in England drive opposite of everyone else. The plot was interesting to her until after the teenagers met Mr.Pipes and learn the hymn "All Mighty God" by Thomas Ken. The story line became more of about the history of hymns which did not excite any interest from her. After continuing to read even though she lost interest she was still able to conclude what the authors' intended purpose for writing the book was, which is to show that you can learn about and praise God through music.
My personal thoughts were very similar to Michelles'. I wished Mr. Pipes' dialogues were more dramatic while reading about the history of hymns. I probably wouldn't of felt like I was all of a sudden reading a textbook. The concept is great, the presentation didn't work for us. Also if this book would of been in printed format I would of appreciated the reading time better. I am not one who enjoys reading a book over 200 pages on a computer screen. I do however have two other children who may be interested in this book when they get older so I will be putting this in the files in hopes to be able to use it again.
The cost of the ebook is $8.79 and the printed book is $9.89
Who I would recommend this book to
1. high school students who belong to the church choir and wants to take their understanding of hymns to a higher level.
2. To adults who would enjoy a light read but enjoy learning about the history of hymns
Christian Liberty Press is a publishing company. They have a whole curriculum line for home school and also sell products from other vendors. They are having a
Summer Sale
right now it ends on Labor Day, so if you have some more curriculum shopping to do you would want to go visit there.
To read more reviews of this book by Crew members click here
schoolhousereviewcrew.com/786168/
I was given a copy of the ebook Mr.Pipes and the British Hymn Makers as a member of the Schoolhouse Review Crew in exchange for an honest review. All opinions I expressed are entirely all of my own!!