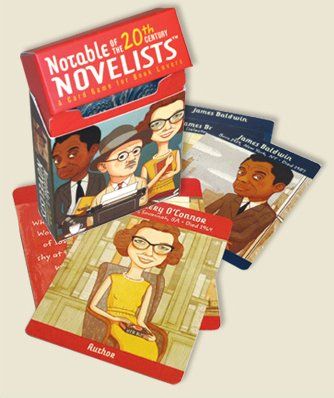 We received the game Notable Novelists made by
Calico
. The object of the game is to collect the most literary sets. There are 18 Literary sets in the deck. Each literary set contains three cards. You collect the cards the same way you would play GO FISH. You need all three cards to make a set. The cards are broken down by
Author Card, Literary Card,
and
Bio Card.
The instructions were written on letter size paper. I really appreciated this, in the past when I played a card game the instructions were written on a card in small print that made it difficult to read.
We also adored holding these beautifully illustrated cards in our hands, that were just the right size. The first time Michelle(14) and I played the game we had so much fun! It was a rainy day and I opted to let the kids
eat lunch and play at McDonald's Play Land.
It is a perfect game to play anywhere. I got huge points for being prepare with an activity for someone who is too big to play at McDonalds:) Michelle was learning while having fun too.
Michelle was so excited when she successfully completed her first literary set. I love the strategy of this game it brings back memories of playing Go Fish, and the learning opportunities are incredible. Michelle and I learned some names of some new to us authors. I also was reminded of some authors that I have enjoyed reading their novels in the past and was able to learn new things about them. Michelle was thrilled to be able to know who Faulkner was while he was referenced in our reading of Farenheit 451. To get a list of the names of the Novelist included in the game go
here
.
The game is intended to be played by 2 or more players, ages 12 and up. There are 54 playing cards included. When Michelle and I just played the average time was about a hour. A fun hour of learning!! When my younger two children played with us, it was about a half of an hour. My kids(14,11,8) get the strategy of Gold Fish so it was easy to include them in this game, and yes they loved the learning component of this game too.
There is an alternate way to play that offers a bigger challenge. Instead of playing the Go Fish style, you focus on the Author Cards, and read the Bio Card or Library Card the first player to identify the author by the information keeps the card. Then you replace the Author card with a new card and then it keeps going until all the Author Cards are won.
The cost of the game is $10.95. You can purchase the game
here
Calico the creator of the game recommends this product to
1.Book Lovers
2. Game Lovers
3. Parents wanting an educational game that introduces their children to literature and is fun for the whole family
4. Educators
5.Librarians
6. Someone looking for a nice gift at an affordable price.
I couldn't agree with them more!! We definitely have been playing this game and it even won the vote to play instead of Monopoly among the kiddos one day.
To see other Crew Members' reviews of this product go
www.schoolhousereviewcrew.com/786257/
I was given the game Notable Novelists to review as a member of the SchoolHouse Review Crew in exchange for an honest review. All opinions expressed are my own!!