This program has been an added bonus to our home school program. It has inspired, and has proven to be the method that is right on with all of my children. DJ has learned what is a paragraph through fun games. Ken has learned that Brainstorming is not that hard to do. Michelle has been able to improve her 5 paragraph essay and now adds a lot more flavor to her writing.
Here how it all starts .......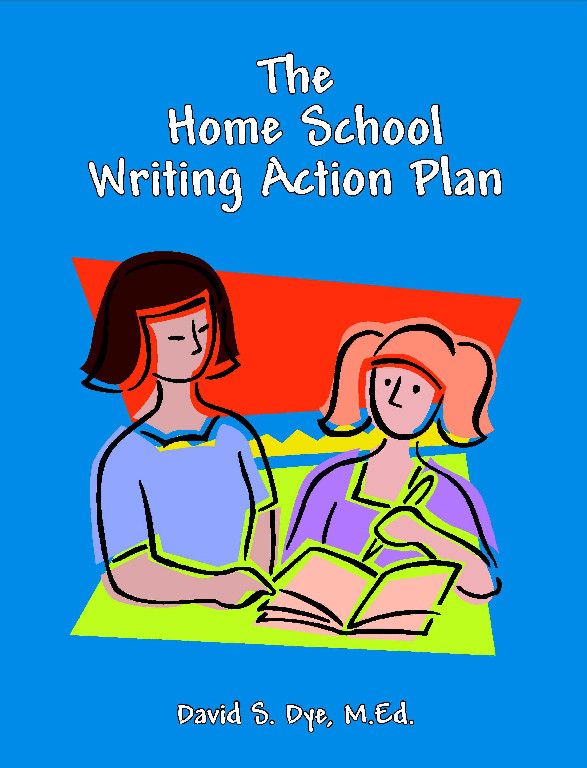 >
You are given an Action plan that describes every step in detail to implement the program successfully. This is your spine.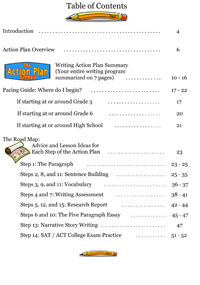 I referred back to this plan often and was able to successfully get my kiddos engaged and teach me a few tricks. All of the activities has the parent engaged while introducing new concepts that will lead to independence. You are breeding confidence which will lead to paragraph writing, writing a five paragraph essay that they are proud of. When I first received this program as a PDF I was pleased that there was a road map to guide me through the process at every grade level from third grade through high school. This relieved my feelings that this would be overwhelming, too much to do. Not at all! It follows the childs' development through all ten steps in the writing process.
During the review period which was little less than a month DJ and Ken learned to identify what are the 5 parts of a paragraph. learned how to set up their paper for prewriting activities. We had a lot of fun learning this and we couldn't stop during a lesson one day while I modeled what a prewriting activity looks like. They have had fun with the exercises and have randomly written paragraphs about many topics. There are plenty of ideas and extension worksheets for the child to use.
Michelle writing skills are just awesome so this program helped her answer the question How can I make improvements to my essay? The first thing that she enjoyed was working on her introduction paragraph with a statistic. For a long time she thought statistics could only be included in the body. This helped her to grab the audience's attention. Her most favorite new tool is the editing checklist. Michelle absolutely enjoyed editing with the checklist that was provided. This joy overflowed and now she wants to be a published author!! What more can I say?
Create Better Writers.com
has other writing products. Here are a few that interest me.
The cost of How To Teach A Paragragh: Ebook is $7.99. How To Teach The Five Paragraph Essay: Ebook is $17.95. Home School Writing Action Plan: Ebook is $15.95.
My Final Thought:
If you are looking for a program to help you teach your kids how to become a better writer this program is for you.
To read other reviews on this product written by Crew members please go here
www.schoolhousereviewcrew.com/786090
As a member of the Schoolhouse Review Crew I was given a copy of the Homeschool Action Plan, How To Teach A Paragraph ebook, and How To Teach The Five Paragraph Essay ebook in exchange for a honest review. All opinions expressed are entirely my own. -