When I first was on the forum of the Schoolhouse Crew Review and read about the possibility of reviewing the
Once-A-Week Unit Studies
I jumped at the chance. I was particularly interested in the eight week unit study
We The People: Getting To Know Your Constitution
. I feel like a Lucky Duck that I was given the unit of my choice, especially since we have been having so much fun with it.
Homeschool Legacy
offers Once a week unit studies that are biblically centered, flexible, and easy to implement. All you really need to get your unit going is a couple of books from the library and the bible. There are extras like Family Game Night, and Field Trip suggestions, even if you are not able to do a field trip there are links available in the unit where you and your family can go on a virtual tour. The Unit Studies also come with a suggested schedule if you like everything already done for you.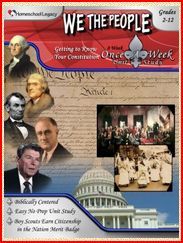 We have been able to implement this unit very easily. It fits our lifestyle of learning, it allows immersion of the topic to be a daily part of life. So far my most favorite week was Week Two where the focus was on The Constitutional Convention. We read one of my favorite books when teaching young folks about the Constitution, " Shhh We're Writing the Constitution" By Jean Fritz. The kids were really involved in this book and I appreciated looking at this book from a different angle,comparing scriptures in the bible to how the constitution was written was just awesome. Another fun thing that they enjoyed was playing Preamble Scramble. The unit provided this fun game that had my children cutting the sentences apart and then putting them back in order. Without a doubt this activity has been the easiest way for my children to memorize anything. They have been reciting the Preamble very often and that has built their confidence to take on other meaningful work in other areas. We usually don't do unit studies that are all put together, but we will be considering using other unit studies that they have as well such as
Lewis & Clark
, and
Revolutionary Ideas
. . I am really happy that there is a company that understands that homeschooling is a way of life and have developed materials that can carry over into the living room, a field trip, and even bedtime. It is a perfect solution for families with children at different levels of learning. My kids have been loving this work! I have been learning so much along the way as well. In fact I was nervous when I found out that my download that was accidentally deleted while doing lesson planning for the week,( you won't have to worry about this, because yours will come to you in a printed format)I became very dependent on the amount of information that is included. The information has always been right on with the questions my children were asking. This is great and I feel prepared and knowledgeable about the subject at hand. Lucky for me Homeschool Legacy has great customer service and I was emailed the download again in less than 24hours.
If you have a child who participates in Boy Scouts or American Heritage Girsl then you get a bonus. Your child may earn merit badges for completing the assignments!!
The Once-A- Week Unit Studies can be purchased
here
for $19.95.
To read other Crew members reviews of this unit as well as other unit studies offered by Homeschool Legacy go here
www.schoolhousereviewcrew.com/786364
.
I was given the We The People:Getting To Know Your Constitution Unit Study as a member of the SchoolHouse Review Crew in exchange for an honest review. All opinions expressed are my own.