What is Math 911? It is a math program that gives you a feeling of comfort that lets you feel mastery from the first click. It allows you to gain confidence in math . I was given a download to the entire math line of products which does not expire with free upgrades The courses include;
Intro to Algebra
Intermediate Algebra
Statistics
Trigonometry
College Algebra
Pre Calculus
Yes, I am a prepared homeschooling Mama with this step by step tutorial program. Each lesson takes about twenty minutes and you receive instant feedback. There is a time clock that runs while you are completing the lesson. At first when I saw the clock I felt like I was taking a timed test;( As soon as I got comfortable I stopped paying attention to the clock and more so on how well I was doing!! In the end the clock helped me keep track of how much time I was spending on my "homework". I won't embarrass myself and share what level I am on. Well, why not? I just completed the Intro to Algebra and dare I say I loved it. Can anybody tell me where
Math 911
was when it was my turn to learn in class? Turns out Math 911 has been around since 1989, just after my sophomore year in high school. Go ahead do the math figure out how old I am:)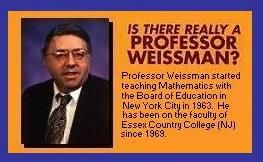 Professor Weissman created this program in 1989 after teaching mathematics for decades. I love his approach and although you get some subtle video game graphics he has made sure that you are loving learning more than the bling. I had a minor glitch in getting this program up and running. It had nothing to do with the download of Math 911 it had everything to do with me. Professor Weissman talked me through the process and held my hand until I was good to go, I think that is five stars for technical support. I can make a testimony to his patience as well, because there is nothing about me that is computer savvy. LOL. Professor Weissman wants you to succeed and he wants you to get the most you can out of his product.
My Final Thoughts:
It is my prayers answered. The prayer I prayed every night when I realized I would be homeschooling a high schooler. I haven't done serious math beyond using the calculator. Just enough math to help me to complete tax returns, and pay the bills. I needed help and I needed it right away!! Oh I am so sorry, this review was intended to be used by Michelle(14) but umm..... I am keeping this as my secret weapon. When the time comes I will whip it out and she will be singing praises too. Since there is no expiration on this download DJ and Ken will be able to take advantage of this program.
The Algebra Flash Drive is on sale for $49.95, to homeschooling families which is the Math 911 Algebra Tutorial Software that is adapted to run from a Flash Drive. To learn more about this go
here
. You will also receive tons of bonuses as well.
To take advantage of the samples in pdf format go
here
.
I would recommend this to...
Homeschooling families of high school and beyond
High School and beyond Math Tutors
Someone who has not used high school or beyond math in a while.
Parents of high schoolers, it can help you help them with homework
College students
High school students
To read other crew members reviews of this product go here
schoolhousereviewcrew.com/786316/
As a member of the SchoolHouse Review Crew I was given the entire line of math products from Math 911 in exchange for a honest review. All opinions expressed are my own.