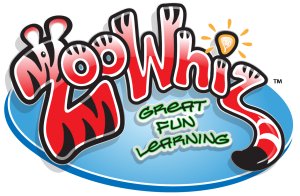 Zoo Whiz
is a computer based learning program. It covers grammar, math, punctuation, spelling, word skills, vocabulary, phonemes and reading. It is a program geared toward children ages 5-15.
How it works:
First your child or you creates an account, then they choose their avatar. After choosing their avatar(character) they then navigate the map.
Learn to Earn
is the place where the educational activities are located also a place where they can build their educational score (ED) and earn coins to make purchases at the
BIODOME
and the
ARCADE
. This is also where you will select your child's educational content and age range goals for the activities.
The
BIODOME
is where your child will purchase animals to build their own zoo by using the coins that they earned. The
ARCADE
contains games that are played for pure fun, and the child earns these games for all the work that they done at
Learn to Earn.
MILESTONES
is the place where your child or you keeps track of their progress whenever they want. While they are improving in their core subjects they are also becoming Zoologist learning about the different animals that they are buying to fill up their zoo with their coins. This allows the child to equate their success with the many animals that they now have in their zoo which instantly makes them a Zookeeper.
Zoo Whiz is free!! You can take a tour
here
. I was given the Premium subscription that is $14.95. The Premium subscription allows your child to have unlimited access to playing time. The selection of the Arcade games increases, as well as the selection of animals to purchase for their zoo. With a premium subscription your child can access detailed information on their animals. They are also currently working on adding more content to get a quick glance pop over
here
How we used it:
I decided to test this program out on DJ(8). When his school day was finished he was allowed computer time. For DJ this program was the latest best thing that has happened to his after school life. He has enjoyed building his zoo, and being identified as a Zookeeper. The facts that he had learned about the animals that he purchased is amazing. DJ is really excited that there is a game that helps him learn at the same time and targets his interest. Everyday he has been playing away counting how many coins and animals he had in his zoo. It was interesting to me to watch him enter
Milestones
so frequently. He checked his progress after every correct answer:)
As you can see in the picture he loves animals, and playing games on the computer comes in second. The games keep coming and his zoo is getting larger. I never felt like I should be limiting his screen time while he was playing this program. It was comforting to know that he was getting some academics at the same time. I would definitely recommend this program to those who have children in their lives that love animals and computers, this would be a perfect combination.
I am looking forward to seeing what else Zoo Whiz will add during our year subscription.
To read what other crew members thought about this product go here
schoolhousereviewcrew.com/786479
I received a one year ZooWhiz premium subscription for one child in exchange for an honest review. All opinions expressed are all my own.